Bracelet Chain
Product Highlights
Designed by Italian artisan with 925 silver material
Solf chain with tag and 1 cm extension.
Description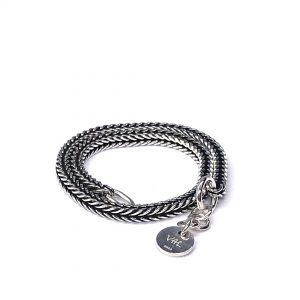 The chain is must use the lock to complete the bracelet.
Recommended to decorate with your gemstones and spacers from Valkyrie Gems Beads.
Size Guides:
First time with us: please measure your wrist size and find your suitable chain or bracelet size.
 Valkyrie  Gems Beads  Bangle size 
 

Valkyrie Gems Beads chain with lock

In cm/inch    

Wrist size in cm/inch
XS

14cm ,15cm,16cm/5.51 inch 5.9 inch, 6.29 inch

12cm, 13cm, 14cm/4.72 inch, 5.11 inch,
S

17cm,18cm ,19cm/ 6.7 inch , 7.inch, 7.5inch

15cm, 16cm, 17cm/ 5.9 inch, 6.3inch , 6.7inch
M

20cm, 21cm,22cm, 23cm/ 8.7inch, 8.3inch, 8.7inch, 9.4inch

18cm, 19cm, 20cm ,21cm/ 7.1 inch, 7.5 inch, 7.9 inch, 8.3 inch